The Essex Ham website has today launched a trial newsletter, tentatively called the Essex Ham TX.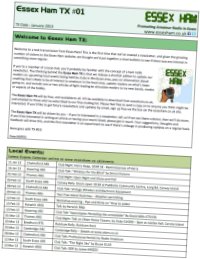 In these days of Facebook and Twitter, it may be that there's no call for newsletters,  but we're keen to see if there is any interest in us releasing regular news updates about what's going on with amateurs in Essex.
We're aiming to keep the newsletter short, and rather than long articles, newsletters will contain the following:
A list of amateur radio events planned for the next few weeks.
A summary of and major ham events in the last few weeks.
Details of upcoming training courses in the area.
A single-page article outlining an area of the hobby that you might like to try.
News stories and links of interest to amateurs in the Essex area.
Try the Essex Ham TX
The first newsletter is available for free download as a four-page PDF file:
We'd really love to know if there's any interest in us producing these on a regular basis. It's an experiment, and if you find this of interest – we'll do more. We're also looking for suggestions. If there's demand, we'd also be interested in getting your news stories, questions, suggestions and any other snippets that you'd think other Essex Hams might be interested in.
The Essex Ham Newsletter is, and will remain, completely free – it's also available to everyone, and not hidden behind a members-only login.
Please take a look and let us have your honest feedback… something you'd like to see again, or just another newsletter that you won't have time to read. Let us know.
If you like it, you can subscribe via the Newsletter option on the top right-hand corner of this page.
More information: