We've just sent out an email update to our members a few snippets of useful information. We thought it may be helpful to put some of the extracts online, for those not signed up to our mailing list.
Didn't get this by email? Could it be that you're not a member? If you're not… become a member, for free. If you're already an Essex Ham, check your email settings to make sure you're on our mailing list)
April Fools…
Thanks to all of you who played along with yesterday's April Fools Day prank. It seems that we managed to catch quite a few of you out this year!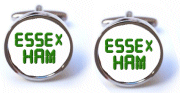 If you missed out… we'd announced a change of name to "SX ARS 2k", a real-world version of Essex Ham. Plans included replacing our popular Monday Night Net with a pub meeting, a face-to-face virtual club night (complete with raffle and tea), moving away from our online service to a 40 metre net, subscription-based members-only events, online training in an offline venue, and a new range of merchandise including cufflinks! If you missed it, the full announcement was here: Announcing Essex Ham v2.0 (1st April 2017)
Of course, we remain committed to supporting the amateur radio activities already taking place around the county, our roots are firmly in the online world, and we're open to all, and well-and-truly subscription-free!
Well done to those who spotted this year's April Fools jape. Hopefully, you also enjoyed the Ham Goodies April Fools product launch too!
Upcoming Events
While we have you, news of a couple of events set for April…
4 April: The RSGB President will be in Chelmsford for the CARS monthly social evening
7 April: TARG – Talk "TARG, Present & Future"
9 April: Essex RAYNET will be supporting the Maldon Bubble Rush
11 April: Peter Onion G0DZB will be at SEARS talking about the Raspberry Pi and amateur radio
11 April: An RNLI talk at BADARS
17 April: The always-popular Essex Skills Night
18 April: A talk on lightning protection at TAARC
20 April: Essex RAYNET's AGM
20 April: A talk by the Martello Tower Group at the Colchester club
22 and 23 April: CARS at Sandford Mill for IMD

Sunday the 23rd of April is a date for the diary, as the popular St George's Day event, GB1STG, is back. Organised by Charlie M0PZT, this is a great opportunity to work a special event callsign out "in the field", and it's great for newcomers looking to get some experience of setting up a portable station, or working HF in the fresh air. All are welcome to this event, which will be very close to a friendly pub in Galleywood Common.
For more, see St George's Day GB1STG 2017. Events are subject to change. See our Events Calendar for more.
Streaming Radio Service
For those who like to listen in to our weekly net, note that we are now streaming our net via the Internet radio service Tunein.
For the hours that we're not streaming our nets, we've created an online radio station – This includes a mix of interviews, features and audio recordings that we've gathered over the years, as well as the latest amateur radio news from GB2RS, courtesy of the TX Factor.
You can listen via our website, as well as the Tunein app on your tablet or smartphone – See www.essexham.co.uk/stream for links
Surveys: Your feedback
We've been running our 2017 Amateur Radio Clubs survey for the last couple of months, but as we're still getting submissions, we're keeping it open for a few more weeks – If you've not had your say, you can still do so here: www.sxham.uk/clubsurvey
We're also running an Essex Skills Night Survey – Anything to say about this monthly event in Danbury? Let us know via www.sxham.uk/skillssurvey
Email updates
And finally for this news update – we've done some work in re-vamping our mailing lists. for a while, we've had this main mailing list, plus the option to subscribe to receive news stories as we publish them. We've added a third service, which we'll be using to send out email alerts about Essex Ham meetups – Our impromptu field days tend to get announced on Twitter and Facebook, but those not on those platforms have mentioned they've missed out.
If you'd like updates of local Essex Ham field events by email, sign up to the new "Events Alerts" service. Access to this, and other member settings can be found on your Members Page here: www.essexham.co.uk/member
That's all for now – and thanks for reading!
Pete M0PSX and the Essex Ham team
Didn't get this by email? Could it be that you're not a member? If you're not… become a member, for free. If you're already an Essex Ham, check your email settings to make sure you're on our mailing list)