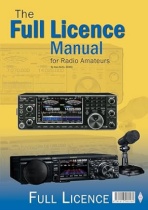 If you hold an Intermediate licence and are in the Essex, Kent, East London or Suffolk areas, how about going for your Full licence?
Fancy being able to use up to 400 watts, get your own club callsign, work overseas, or go Martime Mobile? In that case, it's worth taking a shot of the Full ticket.
The Chelmsford Amateur Radio Society will be giving holders of a 2E0 or 2E1 callsign the chance to sit their Advanced exam in December, following a six-week intensive revision course starting towards the end of October. Here are the details:
Course Starts: 25th October 2012 7pm
Course Ends: 29th November 2012
Location: Danbury Village Hall, Danbury, Near Chelmsford
Cost: £55 (inc. exam fees)
This is a short course, and it's assumed that you'll have already done some homework, including reading the Advance! Full Licence Manual.
The exam takes place on Wednesday the 5th of December.
To book a place, contact Clive Ward at the Chelmsford Amateur Radio Society. Contact details
Go on… give it some thought!