Controlling your amateur radio equipment from a PC can come in very handy, and here's why:
Help with electronic logging – Enters the frequency and mode into your log automatically
Use features such as computer-controlled scanning and band monitoring
Very useful for controlling Push-to-Talk (PTT) with data services
In preparation for a club meeting at the Chelmsford Amateur Radio Society in Chelmsford, I thought it might be handy to document how I'm able to control my Icom IC-718 from a PC.
Connecting and Icom IC-718 to a laptop:
To connect a computer to a radio, you'll normally need some kind of interface. This is commonly referred to as a CAT – Computer Assisted Tuning. I use the popular DigiMaster ProPlus, which handles both CAT and Data, meaning only one interface is needed.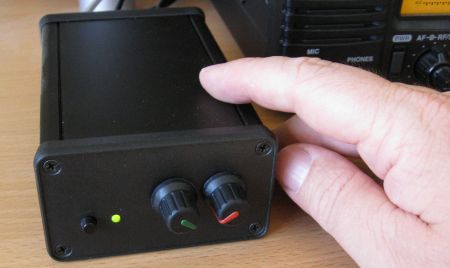 My Interface connects to the Icom rig via the a 3.5mm jack socket called the CI-V Remote, and then to the PC via a USB cable, as pictured here:

CAT Drivers:
Connection is very straightforward, and no special drivers are needed as Windows Vista and Windows 7 seem to be able to detect the CAT without a problem and install suitable drivers.
Once installed, if I look in Windows Control Panel > Device Manager, under "Ports (COM and LPT), I see two USB Serial COM ports – one is for the CAT (tuning) and one is for the PTT (data). Here's a screenshot of what I see:

Ideally, your com ports need to be in the number range COM1 to COM 16. If they are over 16, they may not be found by your software – See the box further down the page for details on how to change your CAT's COM port numbers.
Making the connection
To get the radio and rig to talk to each other, it's important to get the comms settings correct. On my Icom IC-718, here's what I have to do:
Set the baud rate: This is the "CI-V Baud" setting in the radio's menu. "Auto" works for me, with the baud rate actually being 9600
That's it.
Software
Once you have the CAT interface connected between computer and radio, then you can use the amateur radio software of your choice – it's a case of making sure that whatever software you install is set to use the right com port and baud rate. I've been able to use: Ham Radio Deluxe, JT65, Logger 32, MMSSTV and just about any other piece of software I've tried.
Setting up Logger 32
At the July 2013 CARS meeting in Great Baddow, one of the topics was setting up Logger32 for the RGSB G100RSGB callsign
Go to the Logger32 Setup menu
Select "Radio" from the menu
Select "Radio 1 configuration"
Set the Com port for your CAT, the correct baud rate and select your make and model of radio. Here's what works for my Icom IC-718: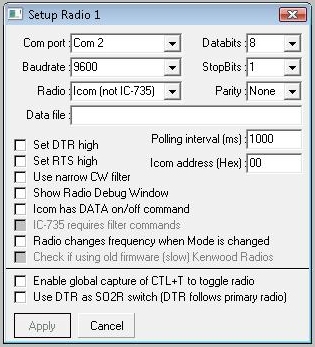 With the settings in place, now go back to the Radio menu, make sure "Use Radio 1" is clecked, and select "Open Port":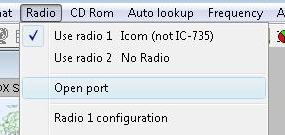 Changing Com Port Numbers. Software such asLogger32only6 supports com ports 1 to 16. If your CAR appears on a COM highertahn 16, change it from Control Panel > Device Manager > Ports. Go to Properties for the com port, go to Port Settings > Advanced, and change the COM port there: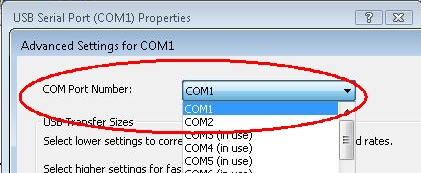 Here's the Logger32 QSO entry screen showing the frequency and mode from the Icom IC-718… making entry of frequency, band and mode very easy!
For information, here's the settings we use to connect Ham Radio Deluxe to our iCom IC-718 via the Digimaster Pro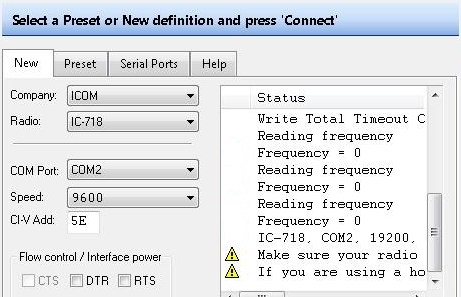 Hope this article has been helpful. Any questions, please add them below…