A reminder that Monday the 17th of November 2014, is the next CARS Skills Night – it's also the last one of the year
If you've been along to one of our Skills Nights in the past, you'll know that the evenings offer a good mix of demonstrations, plenty of opportunities to ask questions, and the chance to chat, swap ideas, and pick up tips.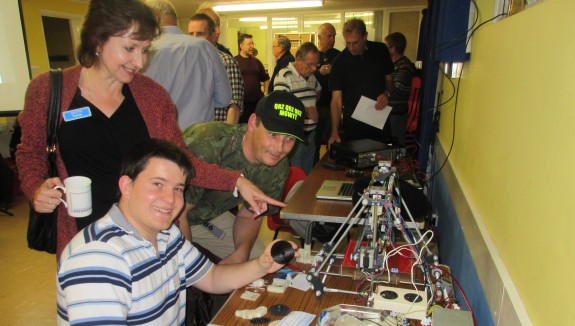 Here's some of what is planned for our November 2014 evening:
Working with Microwaves: Interested in doing things in the GHz range? Check out Steve's gear, based on a Gunn diode – Another first for Skills.
Raspberry Pi: If all goes to plan, expect to see a KX3/PX3 plus a Raspberry Pi panadapter
Antenna Advice: On this week's Monday Night Net, there was lots of discussion about loft antennas and stealth antenna ideas – Come along and bring your questions for Carl, our resident antenna consultant
Handheld Programming: Looking to get your handheld set for the local repeaters? Kristian will be on hand to help – please bring along your radio AND manual
Tablet logging / Digital Advice: Charlie will be on hand to demo something and answer your questions
Beginner's Corner – Come along and ask Agony Uncle Jim for help and advice getting started – he's also happy to give a demo of EchoLink on request
Callsign Badges – Back again by popular demand – callsign badges while-you-wait
CW – A live HF station running CW, plus some bits courtesy of the Essex CW Club
DX Corner: A few bits of radio nostalgia, correspondence and constructive boxes
Show-and-tell: A couple of interesting items are promised, including a countdown timer project! All are welcome to bring stuff along too
Quiz: Test your amateur radio knowledge, just for fun
Plus representatives from CARS, Essex Repeater Group, Essex CW Club and Essex Ham to help with questions
The list is subject to change, and availability, so no promises!
Skills Night Venue:
Danbury Village Hall, 2 Main Road, Danbury, Chelmsford Essex CM3 4NQ – You can find a map and pictures of the hall here: http://www.hamskills.co.uk/cars/venue
CARS Skills Night Oct 2014 – Drone Flight
The Skills Night is free to attend, with refreshments provided. The event is open to all regardless of licence level and club affiliation – If you know someone interested in coming along – please pass this message along.
Related Links