A decent number of CARS members and visitors turned out tonight (Friday the 12th of April 2013), for the club's monthly get-together in Great Baddow. Here's a quick summary
Getting started with construction
Mark M0IEO was the main attraction for the evening, discussing kit construction for amateur radio – This is a precursor to the CARS Construction Competition at the August Club Night.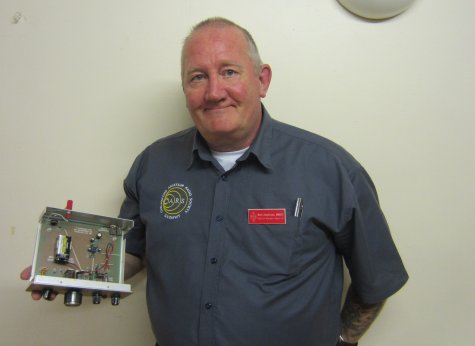 Mark asked for a show of hands which identified that around a third of attendees are constructors – and about the same number are guilty of soldering a component round the wrong way, or having a duff component. Mark then outlined the basic tools needed to build kits. A decent 15-20 watt Antex soldering iron is a good start. Apparently, screwdrivers are for turning screws, and not as hole punches, chisels or drills – worth remembering. Mark had some classic "don't do that" stories – removing rawlplugs with a hot soldering iron is a novel (and dangerous) concept.
Other topics included tool maintenance, digital-vs-analogue multimeters, de-soldering pumps, correct use of drills and lubricants. There was a lot of emphasis both on safely and caring for your tools, and a reminder never to work on live equipment – mains voltage can kill.
Construction Kits
With the construction competition getting closer, it's time to think about construction – but what to build? There are kits for all levels of competence. Mark gave the audience a few examples, starting with a basic shortwave receiver kit from local supplier Waters and Stanton. Next was a 2 metre Ramsey receiver, built by Mark in under 3 hours, followed by Morse oscillator and the Elecraft K2 HF transceiver super-kit ("just" £795!).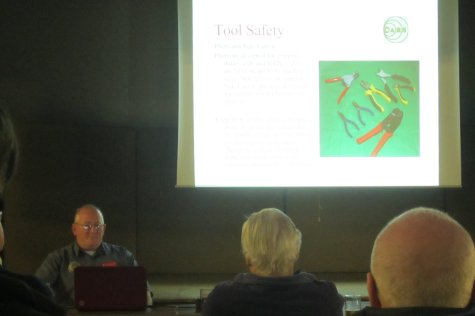 More basic kits included Christmas tree light kits – nothing to do with ham radio, but easy and a good way to get started in the world of construction. Also getting a mention were other kits such as: Doppler direction-finder kits ($170) Nixie retro kits, laser communication kits, QRP linear amplifiers, microwave antennas, and a mini-SSB transmitter. The Elecraft KX3 all-mode transceiver got a mention – this is a modulator build (no soldering), but still classed as a kit.
If Mark's talk fired up your interest in construction, Mark recommended looking for kits in either RadCom or Practical Wireless. He also recommended the following websites:
CARS President Carl G3PEM also recommended Walford Electronics as a good source for UK amateur radio kits. Dummy loads and VSWR meter kits are also worth considering, as they're handy shack tools. Norman M0FZW also recommended Genesis Radio for SDR receiver and transceiver kits.
Thanks to Mark for an excellent talk on getting started in the world of
construction.
Happy building!
Other topics
There was some discussion about the CARS club net – The next net will be on a Tuesday at 7:30pm instead of 8:30pm, as some suggested an earlier net would be good.
As ever, the CARS raffle created several winners, and this month's club night was a great opportunity to socialise and catch up with fellow amateurs.