Pete M0PSX takes a look at Amazon's Echo Dot, to see if she makes a useful amateur radio shack edition:
You may be familiar with this little puck-sized gizmo from Amazon – the Echo Dot – Often referred to as "Alexa"…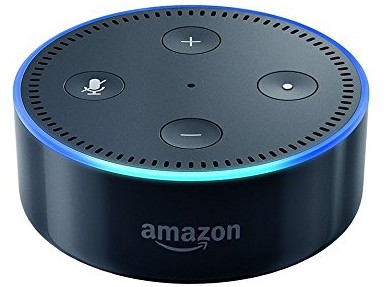 I've had one of these in the shack for a few months now, and thought you might appreciate a look at some of the ways that this can be useful I've put together a short video showing a few examples of some of the clever things this can do:
Featured in this video, plus some newly-discovered skills:
Checking weather forecast where you are, or at another location
Greyline – Check sunset at a specific location
Check diary – Links to a Google calendar (which can import our events calendar)
Ham Radio Q Codes – An optional free skill (Alexa… open Q code)
DMR lookup – An optional free skill (Alexa… Ask Phoenix UK to find M0PSX)
Morse code Flashcards – (Alexa… Ask morse code flashcards to start game)
APRS – An optional free skill (Alexa use APRS to locate M0PSX)
ISS Pass Times – An optional free skill (Alexa… ask space station for next pass over Chelmsford)
Identify your Maidenhead locator (Alexa… ask ham radio what is my location)
Propagation Report (Alexa… ask propagation report for band conditions)
Playing online radio stations, such as "Essex Ham" via Tunein
Want a Dot?
The Echo Dot is available from Amazon. Normal price is £50. See the full spec and prices here:
Amazon's Echo Dot
I've been pretty impressed with the Echo Dot, and when linked to the service IFTTT, the in can use used to do a few extra clever tricks, particularly around "to do lists" and home automation. It's also handy for simple Internet lookups, to check facts, to do maths, or to listen to news headlines from the BBC or Sky. Surprisingly versatile.
Amazon's Echo Dot requires a wi-fi connection and is powered via a 5V micro-USB socket.
Got any good Alexa tips? Please add them as a comment below…
Related Links