SSTV stands for Slow Scan TV. In the amateur radio world, this allows you to send images as data to each other.
To send and receive messages, you need to connect your amateur radio rig to a computer, and then use software to send and decode images.
Pictures typically take about one minute to be received. Here are four images captured whilst writing this article. There were received on the 20 metre SSTV frequency of 14.230MHz:
Using SSTV
As with anything that involves connecting a computer to a radio, setup can be quite tricky. You need to connect the output of your radio to the audio input on your computer's soundcard, and you'll normally use a TNC (terminal node controller) to make the connection between radio and PC.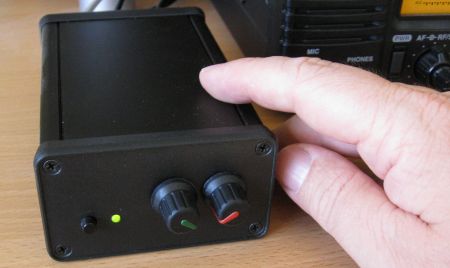 Assuming you can connect your radio to your computer, you need some software. One of the more popular SSTV applications out there is MMSSTV, written by JE3HHT – This is a free download: Download MMSSTV
The following screenshot shows an outgoing message sending a message in response to a CQ call: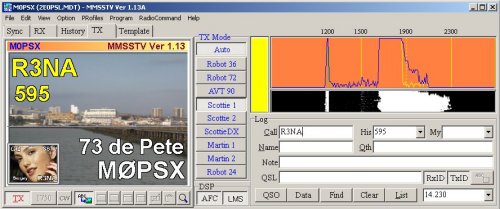 It's very rewarding being able to receive images from other amateurs around the world, and of course, the images are also a QSL card confirming the exchange.
The following image may not look visually impressive, but was one I received in 2011 from the ARISSat-1 orbiting amateur radio satellite – an image captured on the 2 metre band from space: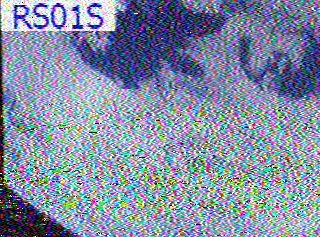 SSTV on a Smartphone
If you're not able to connect your radio to a computer, but you have a smartphone, you can get yourself an application that lets you decode and view SSTV images.
The two screenshots above are taken from the SSTV app for the iPhone and iPad. It's a case of downloading the app, and holding it to your radio's speaker. Tune your rig into a common SSTV frequency, such as 14.230MHz, and hold the phone's mic to the radio's speaker.
When you hear the distinctive tone of an SSTV image coming in, the image should start to load on your screen. You can also leave the phone by your radio, come back in a bit and see how many images you've captured. Application: SSTV for iPhone on iTunes
Tried SSTV?
If you think SSTV might be for you, give it a go. If you've given it a try, please add a comment below to let us know your experiences.