Does the idea of adding the following to your PC for under £10 appeal?
Software-defined receiver covering 24MHz to 1.85GHz (FM, AM, SSB, CW)
DAB Digital Radio
Freeview Digital TV with programme guide
ADS-B Aircraft virtual radar receiver
TV and radio recorder
All of the above is possible with this cheap little USB dongle!
The Realtek RTL2832U Radio & TV Dongle
This is marketed as a "Mini Digital TV USB Stick" and comes with a basic remote control and a tiny digital TV aerial. It's supplied with Blaze software for use with digital TV and radio. If you're happy to install a few bits of other software, the receiver can be opened up to a host of other possibilities, great for use with amateur radio!

I picked one of these up at the Rainham Radio Rally for a little over £18. Online, it's even cheaper. At the time of writing, it's available from Amazon priced from around £10 – here are the listings:
Realtek RTL2832U SDR Dongle Availability

Here's where to get the original RTL-SDR dongle (R820T chipset), or the second generation blue model with the R820T2 chipset offering slightly better performance:
RTL-SDR Software Defined Radio: Installation
Go to airspy.com/download and download the package "Windows SDR Software Package".
You'll need to download a zip file, and extract all of the files using an unzip application. Unzip the files to a folder called c:\sdrsharp\ and then run the file install-rtlsdr.bat – This will go online and download the latest versions of the drivers for the RTL dongle.
Now, plug in the dongle. Windows will try to find a driver. I let Windows install whatever driver it wanted, as apparently the SDR software can use its own drivers.
Next, go to the /sdr-install/ folder and look for /sdrsharp/ – In there, run the Zadig.exe file to install drivers. Zadig detected two devices when I plugged the dongle in, and I selected the first one "Device 0". Can't see "Device 0″? Go to Options > List all devices, and look for the Realtek device there"
The driver installation app is rather chatty, as installers go. It points out, while it's working, that Microsoft doesn't pass back information about the process, so can't estimate installation time. To kill the time, it has a chat. Nice touch

Using the dongle as a Software Defined Radio
With the driver installed, and the operator suitably amused, time to run SDR#, using the sdrsharp.exe file
The interface started up, and to get things running, there are two things you need to do:
1. Set the software to work with the dongle. From the box on the top left, select "RTL-SDR/USB" and hit Play
2. At this point, I could see a signal in the waterfall, but not hear anything. If you get the same, go to Configure, where you'll file that the RF gain is set to zero. Slide up the gain, and it all starts working.

Here is my first screenshot, showing stereo audio from commercial radio station Heart FM on 96.3MHz. The software even decodes the RDS station name and "now playing" information.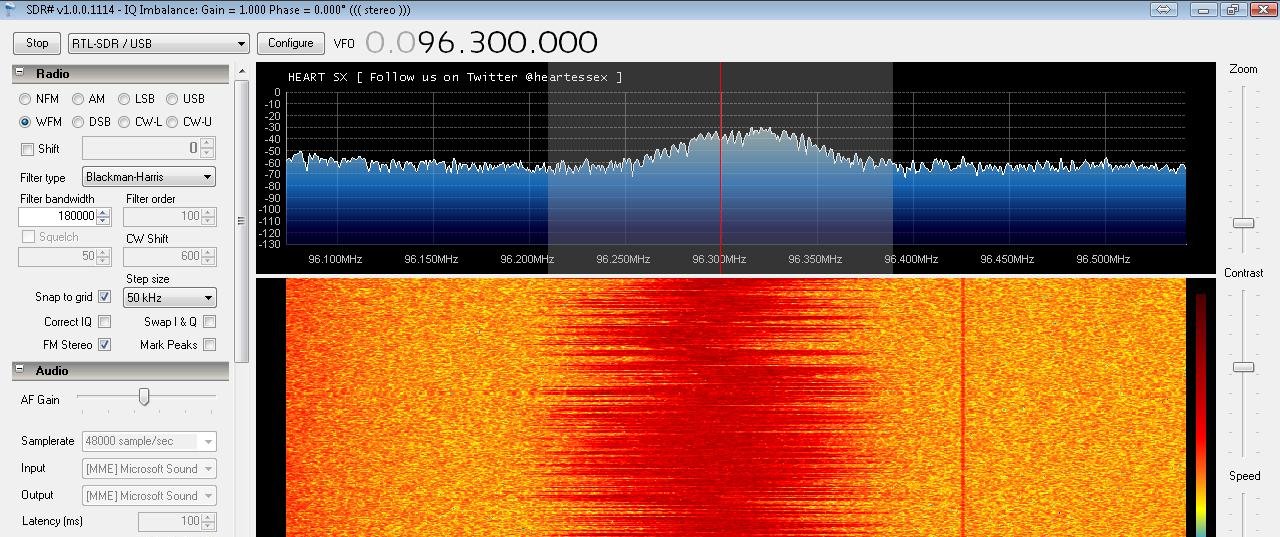 Broadcast radio working fine, and nice audio, especially when connected to a decent rooftop antenna. Now to try the ham radio frequencies. I gave 2 metres a try:

Having problems with SDR#? Try a different USB port, or try re-installing Zadig
RTL1090 Aircraft Tracking
The dongle can get aircraft signals (ADS-B) on 1.090GHz. This is done using an application called RTL1090 (download from rtl1090.web99.de – note the Readme.txt contains info about extra files you'll need) When you install this, it just brings in raw data.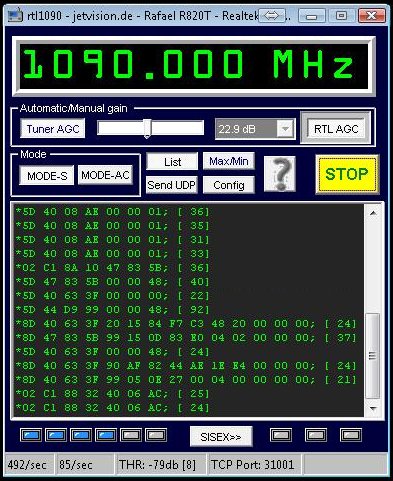 You need an app called ASDBscope to get a map (download from here). You will need to download and extract the ZIP file – The file you need to run is called adsbscope27_16384.exe , which is buried in the folder abdb_all/pc_software/adsbscope/27/
When I start ASDBScope, I get a Registry Error (Win code error: 2) message, but this doesn't seem to cause a problem.
Three other settings had to be changed:
1. Under Other > Network > Network Setup – Press the "RTL1090" preset button
2. Same screen set URL IP address to "127.0.0.1", and 'Close
3. Tick Other > Network > Raw Data Client Active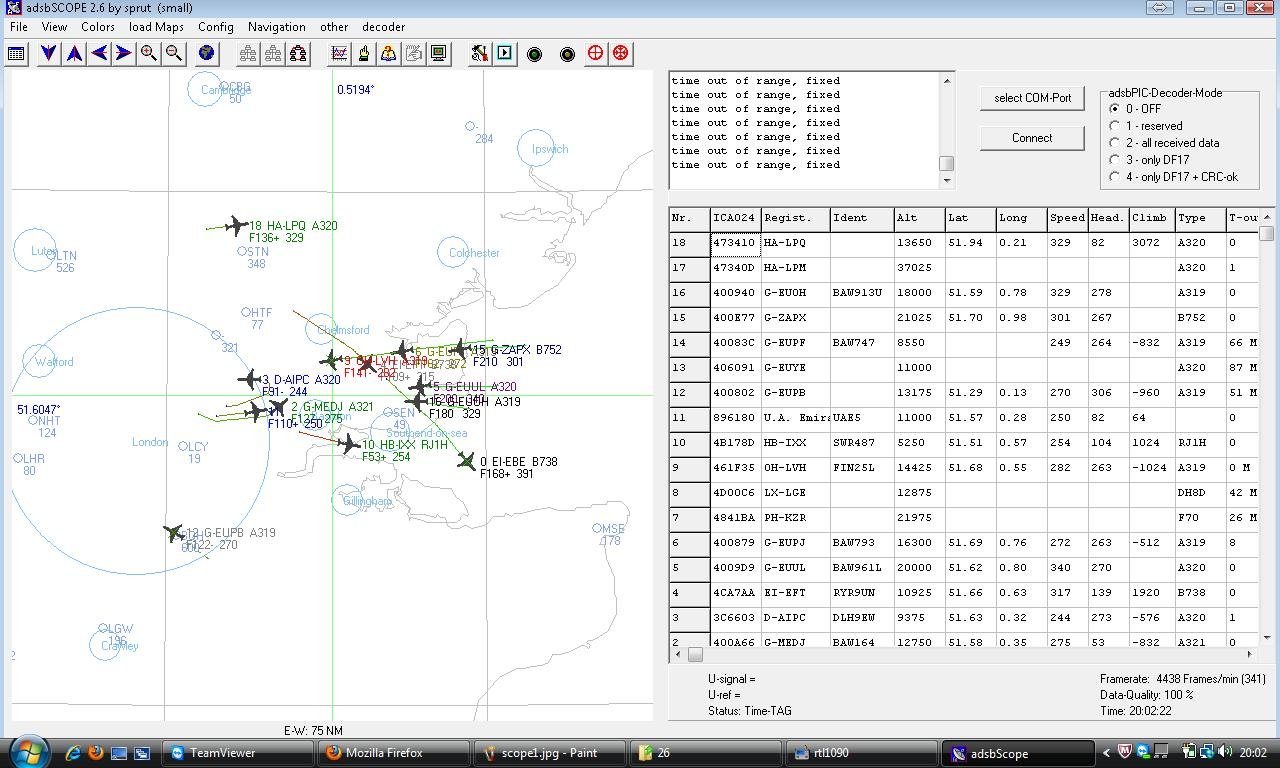 Digital TV
To get digital TV to work, it's a case of installing the drivers found on the supplied mini CD, and then installing the Blaze software application. As this is the purpose for which the dongle is designed, this is not too fiddly, and should present no problems.
I connected the dongle to a standard TV aerial (as opposed to my ham radio antenna) for this test. The first thing that Blaze does once it find the dongle, is perform a channel scan, and it correctly found all of the Freeview channels on offer in my area. Access to the Freeview channels was pretty straightforward, and the Blaze software supports access to the electronic programme guide, has recording facilities and lets you capture screenshots of live TV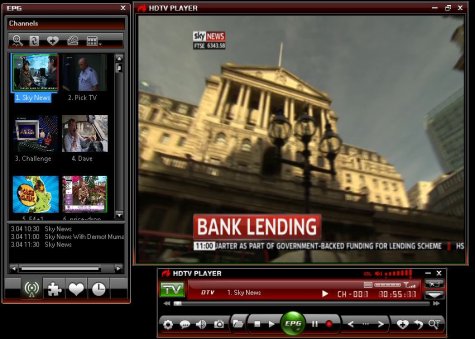 DAB Digital Radio
As with digital TV, you need the drivers and Blaze software to be installed from the supplied mini-CD. This presented no problems.
From Blaze, switching to DAB digital radio for the first time caused the Blaze software to start another scan. The scan took quite a while as it scanned quite a wide range of frequencies. After several minutes, it returned a list of 88 received DAB stations from several multiplexes. Audio quality was very good, and the app has a pretty good interface, as pictured here: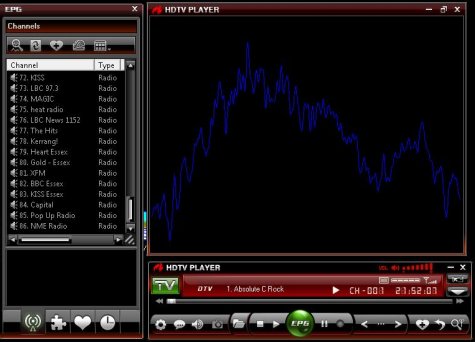 Switching between radio and TV
It's not immediately obvious how to switch from Freeview TV to FM and DAB. The trick is, to press the green 'TV' button in Blaze to get to a menu that allows you to select the different services. Here's a screenshot:

Antennas and the Realtek USB Stick
With a tiddly, and cheap, 12cm of antenna supplied, I wasn't expecting much, and it was only when I was able to connect the dongle to a decent antenna that it started to open up more to me.

The supplied antenna is unlikely to be great for reception unless outdoors or at a prime location, so I was quick to get a decent connection. The connector on the USB stick and supplied aerial is tiny. I've seen it before on sat navs and some pocket TV sets, and I've today discovered that it's called a "mini TV MCX" connector. The good folk at the Rainham rally didn't have one, but Maplin did – and with a lead on the end too. Their part: L59LN has a MCX plug on one end, and a UHF TV coax on the other. This is available here: Portable MCX Adapter Cable at Maplin.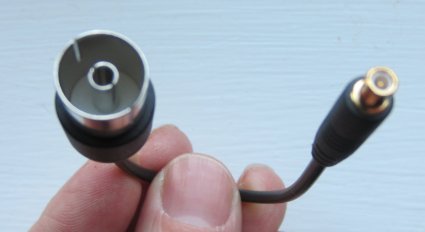 Obviously, this is perfect for TV and DAB radio reception, but as mine was more for ham and VHF work, I snipped off the UHF coax plug and replaced it with a BNC, which I could then connect to a more useful antenna. Worth a try if you want some decent results.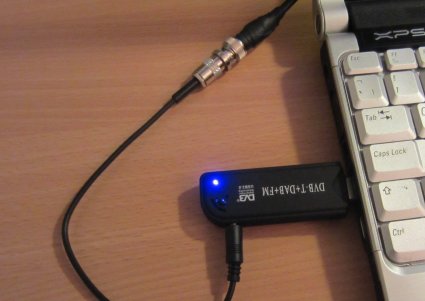 Summary
For £10, this is an awesome toy… dare I say it, far more useful than a £100 Fun Cube Dongle, that was very tricky to set up, and not able to access as much in the way of content. For under £20, you can't go wrong!
Any questions or comments? Please add them below and I'll try to help.
Pete M0PSX
Handy Links