Following a public consultation in February 2020, Ofcom released a statement in October 2020 which is set to require UK radio amateurs to complete risk assessments on their transmissions regarding exposure to electromagnetic fields.
Here is the decision, released by Ofcom on the 5th of October 2020 (source: Ofcom EMF Statement)
"We will include a specific condition in Wireless Telegraphy Act licences requiring licensees to comply with the ICNIRP general public limits on EMF exposure. This condition will apply to all licence classes which authorise equipment to transmit at powers higher than 10 Watts EIRP (including, for example, the licences of mobile phone companies, TV and radio broadcasters and most point-to-point microwave links).

We intend to apply a similar approach for equipment that is exempt from the requirement to have a licence and that is authorised to transmit at powers higher than 10 Watts EIRP, such as certain types of satellite terminals. We intend to amend relevant licence exemption regulations as considered appropriate on a case-by-case basis in line with our policy decision.

In addition, we will require spectrum licensees to keep records (including the results of any measurements, tests and calculations) that demonstrate how they have complied with the ICNIRP general public limits.

We have listened to the concerns of some licensees about the potential administrative burden of demonstrating compliance. To help ease this, we have developed a simple online EMF calculator, so they can assess their compliance more easily. We have also made changes to our proposed licence Condition and to our 'Guidance on EMF Compliance and Enforcement'."
How does this affect amateur radio, and what will we need to do?
To find out more, we spoke to Leslie Butterfields G0CIB, who has been looking into Ofcom's proposals in detail:
Ofcom EMF Changes – Leslie G0CIB Interview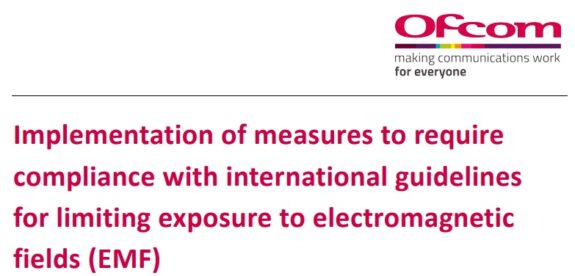 EMF Calculator
Ofcom has released a test version of the EMF calculator – Ofcom EMF Calculator (Excel Spreadsheet)

A note on Logging
Several people have commented on Leslie's comments about logging during an interference dispute. This is good practice during any interference dispute, and is something we teach new amateurs (See parts 1D2, 6G2 and 7A5 of the RSGB syllabus). Although logging isn't mandatory, for interference issues, it's recommended practice. Also note that on cases of interference where Ofcom gets involved, it may well be mandatory. See what Section 12(1) of the amateur radio licence has to say regarding logging for the purposes of interference investigation.
Regardless, the point that Leslie was making is that in the case of an interference dispute where, say, a neighbour has got Ofcom involved, your position will be stronger if you have kept a log, have records of your station tests, and have complied with the requirement to check ICNIRP limits, you'll be in a stronger position than if you've done nothing.
Related links
Got a comment on the changes? Got a question? Send us your feedback in the box below