With 2014 only a couple of days away, Essex Ham has just launched a new Events Calendar. Our old Essex Ham Events Calendar has been looking a little tired of late, and we've been testing a new calendar service for a couple of weeks now. We think it's ready to roll out, and we'll be using this as our new Events service for 2014.
What's new?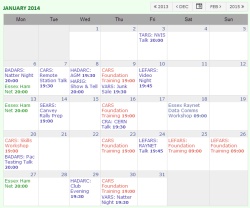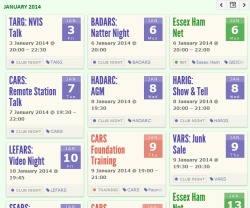 You might think that there's not a lot that we could do improve on our former calendar – after all, the only thing it needs to do, is display upcoming events. Well, here's what the new one does:
Multiple views – Month, List and Posterboard (as shown in the picture)
Event filtering – Decide what you want on the calendar – club nights, field days, training
Club filtering – Just want to see what one Essex club is up to? It's easy
Colour-coded – to see what type of events are coming up
Improved Sidebar Widget – Better summary information
Comment on events – Logged-in members can comment on any past or present event
Maps – Each event listing now has a Google map
Sharing – Want a list of Essex events on your smartphone, Outlook Calendar or Google account? No problem
Member updates – Members can be given access to add new events (handy for club secretaries looking to promote events in Essex!)
The new Calendar
It's now live, and it's been loaded with the next three months worth of club events. You'll find it here: Essex Ham Events Calendar, but we can now add it to any page we want.
Essex Ham Events Feed
At the bottom of the calendar, you'll see two buttons for sharing – one is to let you subscribe to our feed in your Google Calendar (free to Google users), and the other is for an iCal feed – which can be read by most calendar applications, including Microsoft Outlook, and the iOS and Android calendar applications – so you can add a feed of upcoming Essex amateur radio events direct to your computer or your smartphone. Here's the feed updated automatically on the iPhone 4S built-in calendar: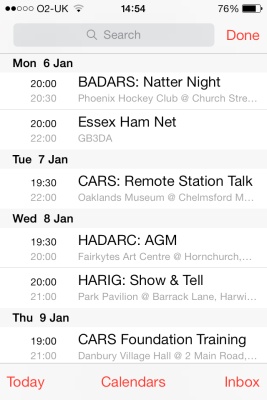 We hope you enjoy the all-new events calendar. If you have any comments, please add them in the box below.