If you have a handheld, you may find it convenient to program in the local amateur radio repeaters from a PC. Sometimes this can be problematic, so here is some help for those having problems with connecting to their Baofeng, Anytone, KYD, Leixen, Puxing, QYT, Retevis, Wouxun, Alinco, Yaesu or Icom handhelds.
If you can't connect, here are a few things to check:
Correct lead?
First of all, you need the correct programming lead. Many programming leads look similar to each other, but aren't – often due to different internal wiring. Make sure you have the correct lead for your radio.
Commonly, the lead will have a serial-to-USB plug, for plugging intoi a PC's USB port. The end looks like this: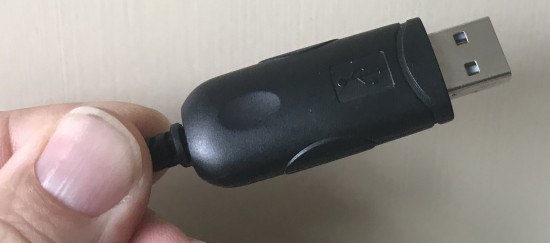 Drivers Installed OK?
You typically have to install the correct Windows drivers. Sometimes this is bundled into the radio software that you install to program the radio, and other times you have to install a seperate driver. One of the most common types of driver is the "Prolific" driver.
An easy way to check is as follows:
Go to Windows Settings and type "Device Manager" into the search box
Plug in the programming lead
Plug in the radio and turn it on
Bring up Windows Device Manager and look under "Ports (COM & LPT)
For radios like the Baofeng, you should hopefully see the "Profilic USB-to-Serial Comm Port" and a port number. Take a note of this number
In this screenshot, you will see that the "Prolific" device has a yellow triangle, which indicates it's detected the lead, but doesn't have a suitable driver. You can click on the icon to get more details about the error.

If you get something like this, it indicates that you need to install (or perhaps reinstall) the driver for your radio programming lead.
Until you've got rid of the triangle, you can't program your radio. Googling for the error message may help if you're struggling.
Software working?
Assuming you have the right lead and the driver is installed and working, next thing to check is the software. one of the more common programs for handsets is "Chirp, which has the advantage of programming up a whole range of handhelds including Alinco, Baofeng, Anytone, KYD, Icom, Leixen, Moonraker, Puxing, QYT, Retevis, Wouxun and some Yaesu models.
First make sure you have the latest versioon, which is available from chirp.danplanet.com/projects/chirp/
With this installed, connect to yopur radio, and "read" the existing memories.
From the "Radio" menu, select "Download from Radio"
From the popup screen (below), select the exact make and model of radio, and pick the correct COM port (as we saw earlier in Device Manager)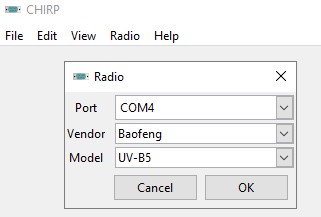 Click "OK" and follow the onscreen instructions, and if everything's correct, you should see a "cloning" status bar, then a screen showing the radio's memories.
Make any changes you want, and add new repeaters, then when ready, select "Upload to radio" from the Radio menu.
Summary
Hopefully we've covered off some of the basics, and addressed some of the common issues with connectivity.
If you have any comments or questions, please add them in the box before, or better still, ask for help in our Help Forum