Thanks to Dorothy M0LMR for sending in the following review of the 2018 Cambridgeshire Repeater Group "Foxton" Rally:
After seeing a post on social media by Chris Lee about the Cambridgeshire Repeater Group, we decided to take a ride out to see what it is like. The rally took place this Sunday (22 April 2018) at Foxton, near Cambridge, and it started at 9:30am.
The weather was beautiful and it was just over an hour's drive from home – up the M11 and follow the sat nav after.
We arrived early (just after 9am). Entrance fee is a mere £2 each, a bargain before you've even bought one! Then we were guided in and parked easily in the field where Many of the stalls were still setting up.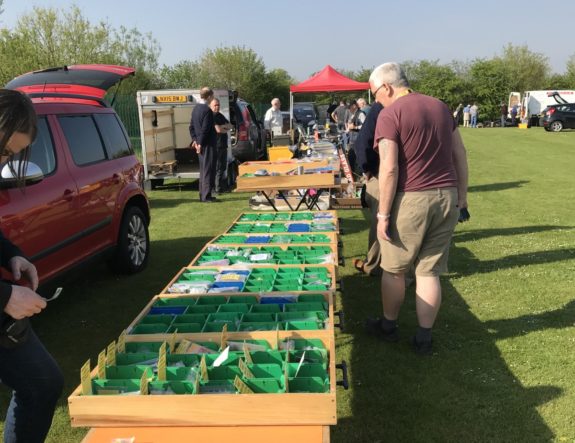 In general, the sellers were second-hand radios, equipment, lots of other electrical related items too, some new stalls selling "nuts n bolts" components, etc (which are always needed of course), Antennas (new and second-hand), some army radios, HADARS (Harlow & District ARS) had a nice stall there too. There were also some VERY cheap stalls – one stall had "any item 50p" and another one, COMPLETELY free… help yourself!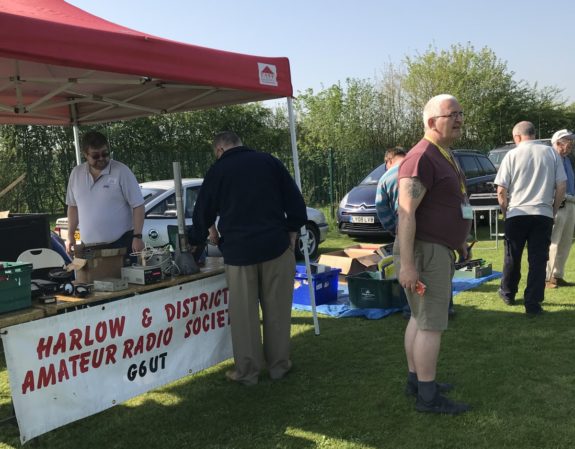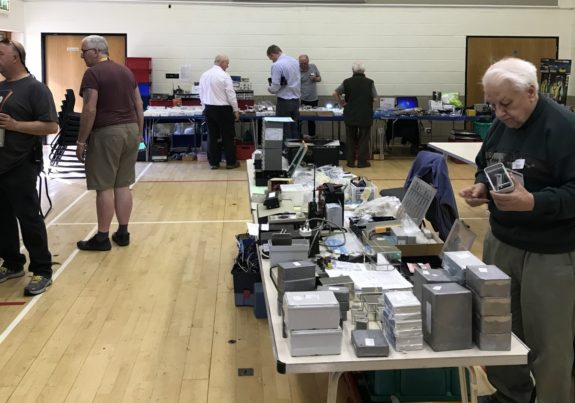 Then we ventured inside to the village hall where many more stalls were set up with new and old radio related items. The RSGB bookstall was beautifully displayed too, and it was nice to see RSGB Region 12 Manager Keith Haynes G3WRO manning the table.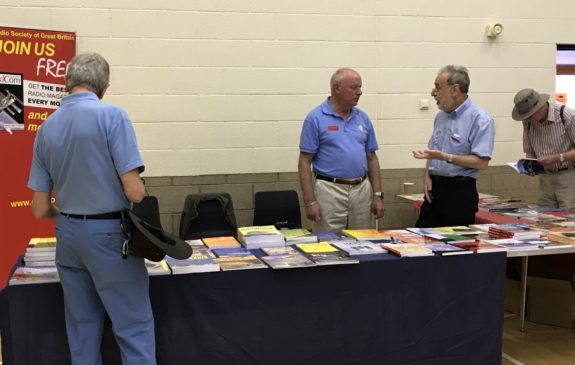 After a wander around inside, we ventured back over to the boot sale-style field via the very nice hot food stand – I had a bacon roll (had to really, being a rally!). Richard G7OED had a hotdog roll. The food was lovely indeed!
Back onto the field, it was nice to see Rob M0VFC doing a sterling job directing cars for parking, which was full by 10:15am! The rally had only officially been going 45 minutes.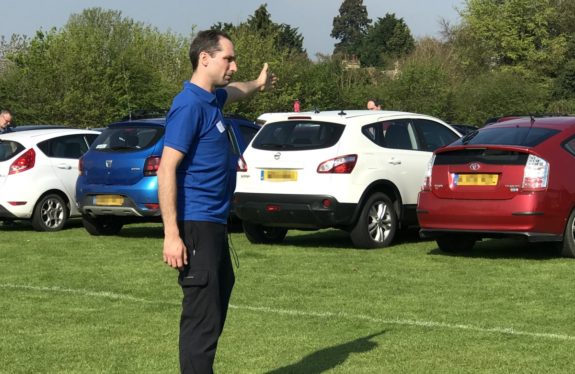 After another look around once all the stalls and set up, and some further purchases, we decided it was time to leave.
It was lovely to bump into some familiar faces too, meeting Chris Lee (who's fault it was, we were there in the first place), George Smart M1GEO, and Bob G4MBD.
All in all, a really nice rally, based around a "boot sale " style outside in the flat easy-to-walk-on field, and usual format of stalls inside the village hall. We will most definitely go again next year!
Thanks to Dorothy M0LMR for a great write-up of the CRG 2018 rally… a good say out, by the looks of it…
Photo Gallery
[ngg_images source="galleries" container_ids="105″ display_type="photocrati-nextgen_basic_thumbnails" override_thumbnail_settings="0″ thumbnail_width="120″ thumbnail_height="90″ thumbnail_crop="1″ images_per_page="20″ number_of_columns="0″ ajax_pagination="0″ show_all_in_lightbox="0″ use_imagebrowser_effect="0″ show_slideshow_link="1″ slideshow_link_text="[Show slideshow]" order_by="sortorder" order_direction="ASC" returns="included" maximum_entity_count="500″]
Related Links