As part of our quest to make it easier for new people to get into the hobby, Essex Ham offers a free Foundation Online Amateur Radio Training Course. Please take a look at the following short video to find out more about our course:
Our Internet-based amateur radio training course launched in 2015 and is designed to help newcomers to get started in the hobby.
Online Amateur Radio Training?
Do you want to study at home? Distance-learning course could be for you
Want to know what the exam is like? Have a dry run of a course before taking the plunge
Already on a club's course? Great – our online course can help with revision
Need extra help? Struggling with a particular topic? Perhaps our videos or handouts can help
Struggle to learn from a book? Our course is a little more interactive.
Can't find a local club to help? Our UK online courses run every month
The course is also useful for you if you can't make regular courses, want to study at your own pace, or have a limited budget. Our course is free.
Note – Those looking to get an amateur radio licence will need to complete the Foundation practicals with a registered assessor, and sit the Foundation multiple-choice exam at one of the many centres in the UK. Clubs and assessors around the UK can help with training courses, practicals and exams. This course is intended to compliment other training in the UK, not to replace it.

The Foundation Online Course
Our online course is split into nine modules, each one with a full walkthrough of what you need to know for the syllabus, plus a short test at the end to make sure it's all going in.
The online Foundation course is supplemented by downloadable material, videos and training slides, and much of the content is based on our popular (and free) Foundation Training Slides, as used by several clubs across the UK.
We're using an industry-standard Learning Management System (LMS) to deliver the course. Foundation Online has been designed by an RSGB Registered Trainer who has been involved with training for multiple amateur radio groups.
Courses currently run once a month, starting in the first week.
They typically run for 3 weeks.
Current Course:
Started early August
Next Course:
Starts 1st week in September
Enrolling on Foundation Online
We're not charging for our online amateur radio training course. It's free to join, and you don't need to be a member of an amateur radio club to sign up.
If you're currently studying for your Foundation, or are planning to start learning, please enter your details below, and we'll be in touch with details of the next course.
Apply for Foundation Online
If you are interested in joining an upcoming Foundation Online course, please complete the following form. We will then send you our course summary, and ask you to confirm when you'd like to start.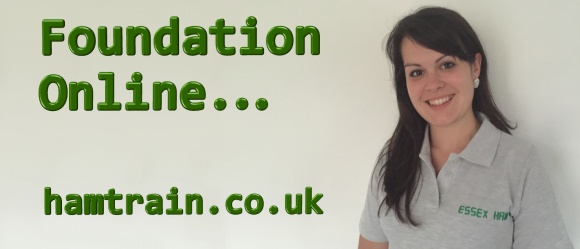 Foundation Online – Your Questions:
Q: Is the Foundation Online course suitable for under 16s?
Our amateur radio training course has been created with adult learners in mind, however the course material is child-safe. Note that the online software used to deliver the course does have an unmoderated forum where students can discuss the course. The course organiser, Pete M0PSX is a RSGB-registered assessor and holds a current DBS Enhanced Certificate. Under 16s are welcome to join, but we require a parent or guardian's consent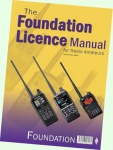 Q: Is there anything I need as part of the course?
You'll need a web browser, an Internet connection, and at least 2 hours free time to study each week. We'd strongly recommend you get a copy of the RSGB's "Foundation Licence Now", which costs around £5 from Amazon. This is the official book that supports the course, and our online course broadly follows the structure of this book. Foundation Licence Now at Amazon
Q: I'm an existing trainer… would this course be useful?
Very possibly. Whether you're a stand-alone independent trainer, or involved with training for a club, this could be useful. Your students sign up (for free) and can learn at their own pace in parallel with your own training programme.

If you're a trainer and are curious about our online amateur radio training course, please contact us and we'll let you have a look at our test area, so you can see how it all works.
Q: I am outside the UK, can I apply?
The course covers the UK amateur radio Foundation syllabus. If you are intending to visit the UK to sit the Foundation Exam in the next six months, you are welcome to apply, otherwise we would ask you not to apply, so that we can allocate spaces to those in the UK intending to sit an exam.
Q: Do I need to be in front of my computer at a set time for a live lesson?
There are no 'live' classroom sessions. We release between 2 and 3 modules a week via our online classroom. The classroom will email you to let you know that a new lesson is available, and you can complete them whenever's suitable.
Q: Why do I have to wait for a set start date? Can't I start today? Can't I do it in a day?
We find that many people learn better if they can study in chunks, not all at once. By splitting the course into 9 sections, we encourage you to tackle the course in small sessions. We also find it helps to have others on the course who also start at the same time, so the modules can be discussed as a group. It's also easier for us to run.
Foundation Exam Questions:
Q: What practicals do I need to do?
You'll need to complete five basic practical exercises – they're straightforward and don't take long. See our Foundation Practicals Information page for full details, and some videos showing what's involved.
Q: How do I take my practicals and exam?
You will need to go to a physical location to complete the practical exercises, and you will need to take the Foundation exam at a registered exam centre – local amateur radio clubs can help with this. There is a fee for sitting the exam (currently £27.50), and clubs usually charge a nominal fee to help cover room hire costs. Normally you will not need to join a club in order to take the exam. To find your nearest club, go to RSGB Club Finder
Q: I'm struggling to find a venue for my exam. Can you help?
See our guide to finding a venue for practicals and exam
If you have an imminent exam and can't wait for our next course to start, we may be able to arrange fast-track access to our online course material. Contact us if you require this service.
If you don't want to use our structured course, there are plenty of other options. You can buy the Foundation Licence Now book or download our Foundation course slides and study the course material at your own pace, and there are other online courses that offer an instant start, such as Hamtests.
Got a question? Add it in the comments section below, or send us an email
Related content