To sign up to the Foundation Online course, you need to create a free Student account with Schoology.com
Creating a Schoology account
Step 1: From a standard web browser (e.g. Chrome, Edge, Safari), go to app.schoology.com/register.php
Step 2: Select "Student"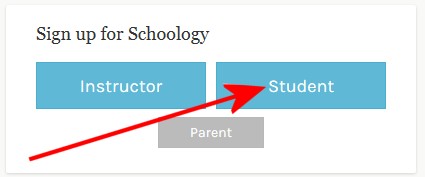 Step 3: At the next screen, enter the Access Code that you were supplied with by email when the course started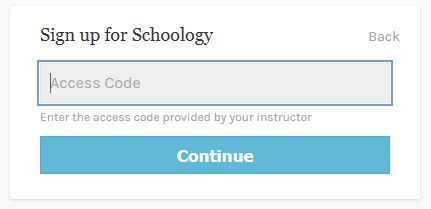 Step 4: At the next screen, enter your full name, email address and date of birth. Make sure to use the same name and email address as you used when you registered with us. Create a password (and keep a safe copy!). Tick that you agree to the terms. No need to select "Receive periodic updates from Schoology"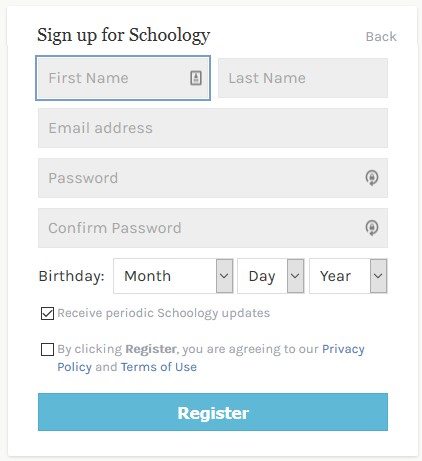 Step 5: Once you have pressed "Register", you will get a confirmation that you have joined the course:

Step 6: From the menu, select "Courses", and you'll see the current course that you're signed up to. Click the course.

Step 7: You should then see the course main page, which should look something like this: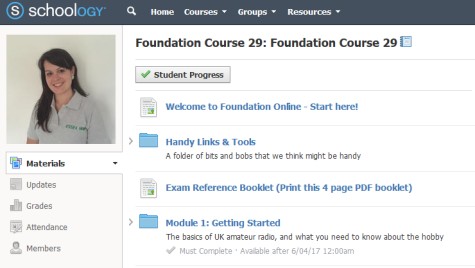 As new modules are released, they'll appear in in a list under "Materials"
And that's it!
Message: Enter School?
If you're asked for a school – this is because you are likely trying to log on as a tutor, or have created a tutor account, not a student account.
If you see the following screen, you are trying to log in as a tutor. Select "Regular login":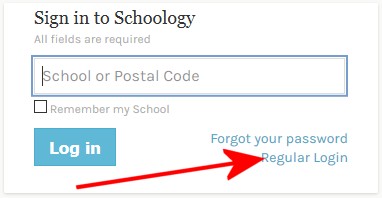 If you have created a tutor account, you need to go through the steps above and select "Student".
Error Message: Email Address Not Valid?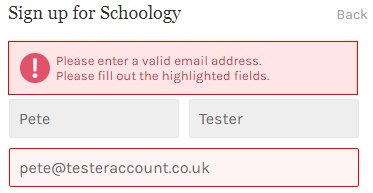 If you get the message "Please enter a valid email address", you may be trying to create a Parent account, not a student account. Go to Schoology Sign Up and select "Student"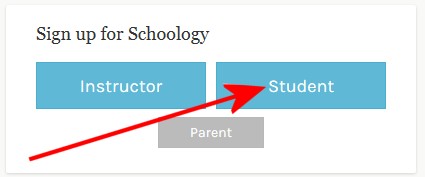 Email address
still

not recognised?
Make sure there are no spaces or hidden characters in the email field
Make sure you have typed the email address correctly
Make sure the address has not been used for a previous Schoology account
We've heard of problems with people creating accounts on some Android phones – if it doesn't work on the app, use a standard web browser, such as Chrome, Edge or Safari
Could it be a browser issue, like a cache or auto-complete? Try with a different browser or your mobile phone browser
Error message: Access Code Not Recognised?
Make sure you have followed the instructions above carefully, and that you are entering the course access code correctly (with no spaces). It makes sense to copy and paste it, to prevent transcription errors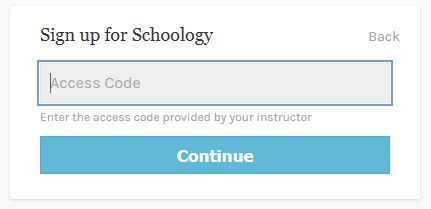 Email Address Already Registered?
If you have taken our course before, there is no need to re-register with Schoology – you can simply use your existing Schoology account. If you try to register, you will get this error:

Here's how to join a course if you already have an account:
At the next screen, enter your email address and your Schoology password (you would have created a password when you originally created your account). If you have forgotten your password, press "Forgot your password" to get a new one sent to you)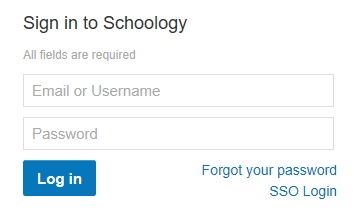 Once you are logged in, from the menu, select "Courses" and then click "Join a course"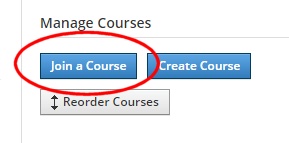 Enter the access code for the new course that we supplied to you by email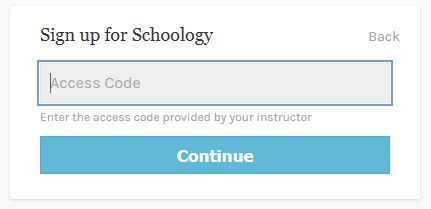 Trouble logging in?
If you have already created your Schoology account, you can log in here: app.schoology.com/login
If you have forgotten your password, select "Forgot your password", and you'll be sent an email helping you to set a new password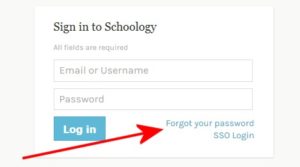 If you don't get the email reminder, check the following:
Are you entering the correct email address that you registered with?
Have you checked your email spam folder?
If you still can't get in, you have two options – contact Schoology support, or create a new Schoology account
Other Problems?
Still having problems? You're welcome to contact us – please quote the exact error message, the type and version of browser you're using, and if possible, send us a screenshot.