If you're considering getting into the amateur radio hobby, then there is one book that is pretty much a 'must-have'… "Foundation Licence Manual".
Essential Reading: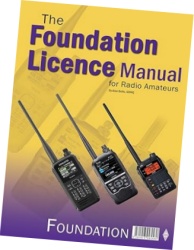 This is a low-priced training book that covers the Foundation syllabus in the right amount of detail to give you all of the information needed to pass your first exam. Complete with pictures and useful information, it's 40 pages long and broken down into the sections covered by training clubs and the exam paper itself.
The book is written by respected amateur radio trainer Alan Betts G0HIQ and published by the RSGB as an official source for UK amateur radio training.
Some training clubs supply candidates with a copy of the book to help them study throughout the course, whereas other clubs ask students to buy the book up-front and get familiar with the contents before attending the course.
Availability
The Foundation Licence Manual (by the RSGB) is available for around £5 online from

Related Links