Our annual trainer's survey was released on 22nd August 2022. This is being conducted to assess the state of amateur radio training in the UK, with special emphasis on looking at ways to encourage and support clubs and amateur radio groups with their training.
Who is the survey for?
The Training Survey 2022 is open to anyone in the UK:
currently involved with amateur radio training,
thinking of getting involved with training, or
involved with running an amateur radio club or group
The results of the survey will be collated and a summary of the findings will be published online on this page.
Looking for the results?
We'll update this page with occasional updates, but if you'd like an email when the results are published, please sign up to the Ham Train Tutor's Newsletter or the Ham Train Groups.io Group
Results so far:
31 responses up to 10 October 2022:
Is your club offering training? 65% (20 clubs) said "yes"
Levels of training: Foundation: 55%, Intermediate: 42%, Full: 29%
Has your club run a course this year: Yes: 35% (11 clubs), Planned for 2022: 10%
Seen as very important:

"

Better communication from RSGB" (58%),

Better promotion of amateur radio

(55%) and "Content from RSGB" (45%)

Has your club signed up to Brickworks? 13 clubs said "Yes" 
Is your material ready for the current syllabus? 9 clubs said "Yes"
Will your club be offering courses for Direct-to-Full? 5 clubs said "Yes"
Has the number of members joining your club increased since Covid? 55% said "Yes"
Clubs responding:
Bishop Auckland RAC
Bracknell ARC
Caithness ARS
Colchester RA
Dudley & District ARS
Essex Ham
Harlow & District ARS
Hereford ARS
Hilderstone RS
Hinckley ARES
Houghton le Spring ARC
Invicta Contest Group
Isle of Wight RS
King's Lynn ARC
MW7CCS
Ormiston Horizon RC
Peterborough
Poole
Quantum Technology Club
Sidmouth ARS
South Kesteven ARS
Telford & District ARS
Thurrock Acorns
Warrington ARC
Wirral ARS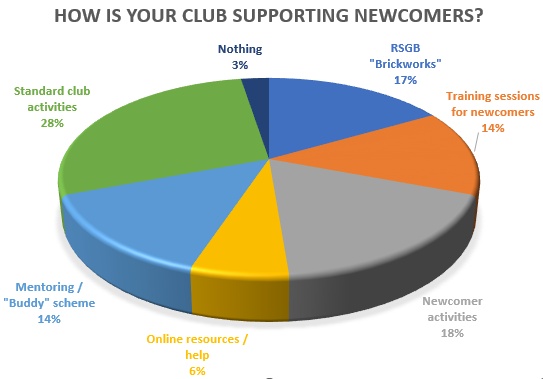 Some of the survey comments:
RSGB need to start responding to grass root feelings. They are there for all to see on Group IO. I am now on my own for any training we would offer. I have personally purchased 3 sets of training books out of my own pocket and they are out of date. NO MORE. Too many changes too close together over the last 3 years or so. You just set up your training material and get the delivery sorted and you have to change. I do enjoy training but it's just too much with all the constant change and lack of communication from RSGB.

The syllabus is changing too frequently. The updated books appear far too late – they should appear with the new syllabus, not a couple of weeks before the new syllabus comes into effect.

I was astounded to find that even after the publishing of the new updated issue RSGB textbooks that the RSGB sell off all the out-of-date books first to mail order punters.
It appears that the issues of the official syllabus are completely mixed up now with various issues of EMF info and questions.
Why is it so so complicated now? Can't we just get back to basics?
We firmly believe that hands-on practical tuition is still the best approach to furthering interest in amateur radio. We also promote electronic engineering to provide youngsters with a possible path to securing an apprenticeship in electrical engineering. We have had a good result with this.

While club training is important independent training is also very important as youth groups can manage this

As ever, we need more younger people entering the hobby.

It seems that the online exam (and free time during lockdowns) has cleared a lot of the latent demand for people wanting to get a licence. Since then we have struggled to get attendance back to pre Covid levels, depleting resources and enthusiasm. There has been low takeup of brickworks. 2 out of 16.

We rely totally on the support of volunteers to maintain our hobby, support from the governing body is always appreciated if available
'Brickworks?' Who thought up that, sounds like a primary school achievement wall! I like the follow on to exams, but we're supposed to be inspiring people, not infantilising them. The kindle versions of the training books should be updatable. Why release any material until it's in a finished state, totally unprofessional, really ticks me off.
We have before Covid, offered training in Foundation and Intermediate levels which included the practical sessions. We also ran the 'paper' exams and, when that shifted to invigilated laptop sessions (in person, at the clubhouse), we included that. Now the remotely invigilated exams are in place it has had the effect of making us feel that as a club we no longer have a part to play. I would like to see the club returning to training right through to the Full examination in order to bring those new to the hobby more fully into the subject through discussion and through contact with those with a depth of experience in the subject.
There is a need to get "up to speed" with the recent changes to the exam questions and syllabus.
I (being Exam Sec) find that Hamtrain is excellent for Foundation students and it's much easier and less expensive to direct newcomers to Hamtrain. We will run exams on demand, but on-line exams has reduced requests for exams from us to zero! I am a tutor for Bath Based Distance Learning for both Intermediate and Full and think we other an excellent product (free). This kind of learning is not for everyone and we are aware of that, so some form of face-to-face training is still required.
Sick of updating material. It's become too much for just 1 person. No one else to turn too
Because we are in a limited area for access we try to deliver training in as flexible a way as possible to suit the needs of the applicant. We do not schedule training courses, but run them in response to requests. Most of our trainees have passed their tests, not all first time, but are coached to try again. Most people who withdraw usually do so for unrelated reasons to radio learning.
Training books are very poor, since practical's removed
Handy Links