We're asked this a lot, and to be honest, it's a challenge.
First off, let's look at the reasons why youngsters aren't interested:
They all carry devices that allow instant worldwide voice, text and image communication
Their "mates" aren't on it, but their mates are all on social media
It's seen as old-fashioned, with trainers & clubs potentially a generation or two older than them
It's seen as hard work (exams, study, etc)
Low awareness – do people know it exists?
Cost: A Baofeng's only £25, but to take it more seriously, costs rack up – antenna on the roof, PSU, HF rig, ATU, etc.
Frankly, what's in it for them?
Why amateur radio?
There are some strong selling points:
Understand science
Youngsters use tech, but do they understand it?
Building / making can be fun
Use of radio when out-and-about
Linking with STEM subjects on the school curriculum
Marketing to youngsters
Here are a few ways to get amateur radio in front of youngsters
JOTA – See if your club can get involved with a Scouting JOTA station (October each year)
Thinking Day On The Air – For the guides & brownies each February
YOTA – Various RSGB-driven "Youngsters On The Ait" events
British Science Week – loads of activities around the country in March each year – can you club attend and help out?
Schools – become a STEM Ambassador and get into schools to talk about amateur radio
Maker groups and Code Clubs
Air & Sea cadets
What interests kids with amateur radio?
From our experience:
Space – ISS, listening to astronauts, SSTV from space
Images – SSTV can ve fun – on our group's JOTA, the kids design QSL cards and SSTV them to other scout groups
Aircraft tracking – £10 dongle and a laptop and kids can go plane spotting
Morse – sending name in Morse code can still be fun
Strategy
It's very hard to get youngsters hooked, and when you do, even harder to keep them interested, especially if their peer group is not on amateur radio. Here are some thoughts that might be of help
Primary school: Sell them on the benefits of radio – we've done a few talks for primary schools where we've just talked about "radio" – the fact that it's all around, in our phones, we navigate using it, our Internet is wireless, and we even cook with radio waves. Lots of interaction needed – "who uses radio?", "what can you use radio for?", plus a few stories about radio
Secondary school: If you can get to those with an interest in science, perhaps by being a STEM Ambassador: space, construction, greetings messages, aircraft tracking. Also, science fairs and competitions like "Big Bang" or the "Crest Awards"
16+ Above: Group activities. Direction-finding, high-altitude balloons, SSTV, SDR dongles, amateur radio peer groups
University & Above: Clubs? Construction competitions? Careers talks? Demos? Field Events?
Working with other youth groups, maker groups, code clubs, Raspberry Jams, etc
Suggestions
Club websites need to be welcoming and include sections for newcomers and youngsters
Training needs to be accessible and fun – encourage the use of online training and videos, to suit attention spans
Appropriate use of social media
Press coverage of youth successes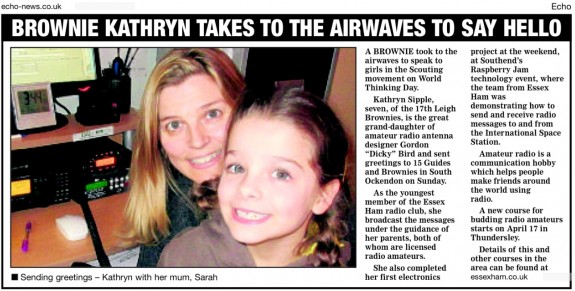 Resources
Any tips we've missed? Please add them below!