If you're looking to get your Amateur Radio Foundation Licence, you'll need to complete a few straightforward practical exercises and then take a 26 question multiple-choice test. There are two common approaches:
Update: During the COVID-19 Lockdown, practicals are suspended and it's possible to take exams online from home – See Exams and COVID-19
Structured Training Course
There are hundreds of amateur radio clubs in the UK, and many of them offer Foundation training courses. These are typically run on weekday evenings or at weekends, and involve a mix of teaching, working through the practicals and then sitting the exam. Typically, a course will last between 10 and 15 hours, split across multiple days.
The cost varies between clubs. There's a mandatory exam fee of £27.50 to pay, plus additional fees to help cover the cost of hiring the training venue, plus providing course material and refreshments
Self Training
If you're not able to attend a full training course, or you prefer other methods of learning, then you can self-study. There are several options available – learning from another amateur, from online material, via the Foundation Now book, or using an online course, such as our free Foundation Online course.

Once you've learnt the course material, and perhaps tried a few mock exams online, then you'll need to arrange to take the Foundation practical exercises and sit the multiple choice exam.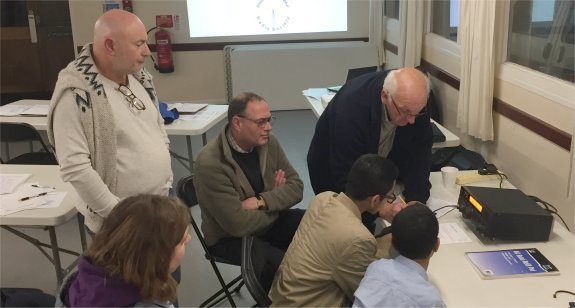 Finding a venue
Whether you're looking for a course, or just a place to do the practicals and sit the exam, the first port of call is the RSGB's Course & Exam Finder – You can put your postcode in to find the nearest venue, then make contact with the venue and find out when their next exam is running.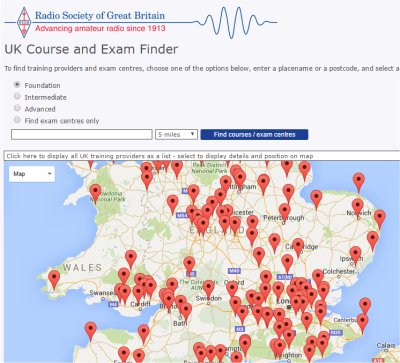 If that reveals no local exam centre, then the next option is to try the RSGB Club Finder. This will let you contact your local amateur radio club, who may be running local training, may know of local trainers, or be able to point you in the right direction.
Some clubs offer "Fast Track" sessions – practicals and exam only. Ask if your local club offers such a service, or is prepared to help.
Note that most UK clubs will charge a fee for helping you with your practicals and arranging an exam session. Contact your local clubs for fees. An exam fee of £27.50, payable to RSGB, also applies.
Venues in Essex?
We're lucky that there are plenty of clubs offering training, and a good mix of evening, weekend and practical-only sessions. See our Foundation Training in Essex section for a summary of what's on offer in Essex, and when.
Still can't find anywhere?
Not all clubs run training or exams, and those that do, don't do so all year round, so in some cases, you may either have to wait, or travel further afield to find a suitable training course. Not ideal, but as courses are run by volunteers, they're often only run when there's demand.
It's still worth contacting your local club, as they will be able to ask their members to help, or they may hold events that you could go along to, whilst you're waiting for an exam to become available.
Another alternative is to contact your local RSGB representative. They are in touch with all of the clubs in their area, and may be able to advise you, or help to get you in touch with a local trainer or exam centre.
There are also a few independent trainers out there. Whilst exams have to be taken at an RSGB-approved venue and organised by approved people, the practicals can be assessed by any RSGB-registered assessor (so it's possible to get the Candidate Practical Assessment Report" signed off by an independent assessor if there's one in your area.
Two other options include:
Talk to a few local amateurs. If you go along to a local club event or field day, you can perhaps talk to local amateurs to get their local knowledge on who does training in your area, and which clubs/independents are more helpful
Alternatively, you can ask in one of the national forums and hope that someone close to you replies with some useful information. Two of the largest are: transmission1.net and charlietango.co.uk
Related links