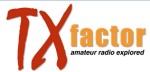 The first amateur radio TV show for the UK has been released today, Friday the 21st of February – and it's a great watch!
This is an online TV show lasting just over 30 minutes that's set to cover all aspects of the amateur radio hobby.
It's presented by three hams with significant broadcasting credentials – Bob G0FGX, Nick 2E0FGQ and Mike G1IAR. The team will be exploring history of amateur radio, rigs, antennas, operating modes, propagation, sport radio, training, club news, RSGB news and more throughout the series of online TV shows
What's in Episode 1?
Part 1: Marconi Centre, at Poldhu
Bob McCreadie G0FGX explores one of the most famous transmission sites in the world: The Marconi Centre, at Poldhu in Cornwall
Part 2: SOTA – Summits On The Air
Nick Bennett 2E0FGQ Nick Bennett talks to Tom Read M1EYP as he activates Styperstones, a SOTA summit in Shropshire
Part 3: Norman Lockyer Observatory Radio Group Repeaters
Mike Marsh G1IAR keeps his feet firmly on the ground at the Norman Lockyer Observatory Radio Group in east Devon to find out what makes a 2 metre repeater tick
[weaver_youtube http://youtu.be/Ia5TeYPdwbY id=videoid sd=0 percent=100 ratio=.5625 center=1 rel=0 https=0 privacy=0 see_help_for_others]
TX Factor is a great show with lots of potential – extremely well presented and it certainly wouldn't be out-of-place on mainstream TV. Looking forward to the next show, in March!
To find out more, and to get updates about upcoming shows, go to www.txfactor.co.uk