Regular users of amateur radio repeaters will know that they need to watch out for the 'timeout' – the moment that the repeater can cut off a conversation in mid-stream if it goes beyond a pre-defined time limit.
A new project kit, designed by Essex Ham member Andrew M0ONH, neatly solves the problem of alerting you before you hit the crucial timeout moment.
The kit was developed following discussions around Essex Ham's Monday Night Net, where 'overs' are limited to two minutes. The Repeater Timeout Kit makes use of an Arduino Nano board and some basic components to detect local RF when the transmitter is switched on, and provides a visual and audible warning when the timeout is approaching and has been exceeded.
We've put together a short video of the kit in action:
Amateur Radio Repeater Timeout Project Kit – Video Overview
The kit is easy to construct and supplied with full instructions. It makes for an ideal beginner's project, and serves a valuable need for repeater users. Potentially, it could also be a handy kit for use as a club construction project or at a buildathon.
The Repeater Timeout Kit is the first kit being offered by new online store HAMtronics.uk. which launched at the Langdon Hills Progression Night in January 2019. As well as being available online, the kit will be available at Suffolk RED on the 30th of January, and the Canvey Rally on Sunday the 3rd of February.
Repeater Timeout Kit Availability
The kit is available for £10, plus UK postage, at www.hamtronics.uk.
Limited Edition Essex Ham Version (Also £10 + P&P): HAMtronics.uk (Essex Ham)
Also available at the Canvey Rally, on 3rd Feb 2019
Two versions of the kit are now available, including a special edition Essex Ham version (functionally the same, but the board is branded with the name Essex Ham, especially for regular Monday Night Net participants).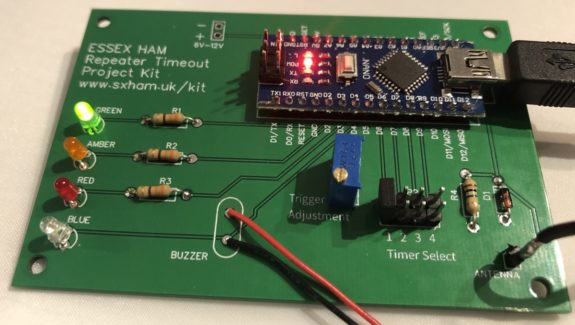 Related Links