Those of us who've been taking advantage of the recent mild weekends playing radio will know that it's great fun working /P – Getting out in the warm weather with a bunch of good radio friends, chatting and making on-air contacts. Several Essex Hams have been out-and-about in recent months at the excellent Galleywood Common location.
One of the challenges of working "in the field" is the lack of mains power, which typically means everything's run from batteries. Fine for radio equipment, but not so easy for computing, which is why a lot of QSOs are logged on paper – saving the faff of trying to run and power laptops in the field.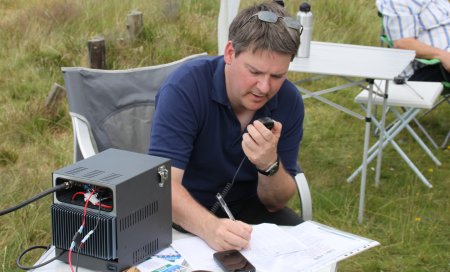 Portable Logging
There are of course solutions, and I've tried a few:
Running a mains-powered laptop using a portable inverter
Running a netbook on power-save mode or connected to a SLAB power supply
Using a mobile phone or tablet logging app
The options above all work, but there are compromises. However, courtesy of one Essex Ham, we now have a new option… PicoLog
PicoLog on a Tablet
Charlie M0PZT, one of the regulars at the CARS Skills Night, is the author of the fully-featured PZTLog and the cut-down uLog PC logging applications – Seeing a need for a more portable option, Charlie has just released PicoLog – a small and simple logging application for Android tablets.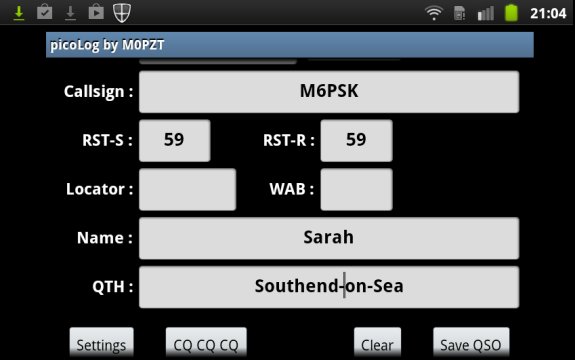 The app is small, simple and free… which is always a good thing. Its job is to let you capture the basics of a QSO in the field, return to base, and export your log as an ADIF file for import into your main logging package, whether that's PZTLog, Logger32 or the Ham Radio Deluxe Logbook app. You can also upload your ADIF to eQSL, QRZ.com or any other service or package that can handle an ADIF import.
Installing PicoLog
If you have an Android tablet or smartphone, install the free app by clicking on the following link from your Android device should open the installer: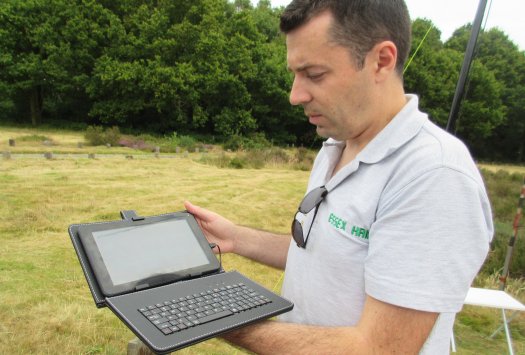 Getting an Android Tablet
Now the cool bit. Whilst an Apple iPad will set you back £200 upwards, there are a bunch of cheap Android tablets out there that will run amateur radio logging with ease. Sure, they're not the fastest or sexiest tablets out there, but they're cheap and more than adequate for in the field operation. They'll typically change from a USB port so can be charged in a car when you're off-air, or from one of the many portable USB power supplies… no messing with inverters or connections to leisure batteries)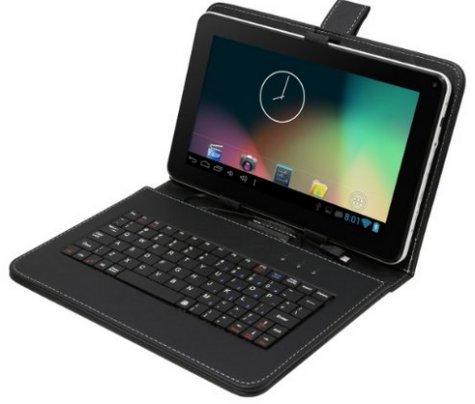 Looking for a low-price tablet? A good option is to go for a 9 inch Android tablet, and get a case with a built-in keyboard (either connected via micro USB or using Bluetooth) – you can either get these as separate items, or as a bundle. At the time of writing, we could get the lot for under £50. See the following links:
If you like to get out and play amateur radio "in the field", give some consideration to investing in a cheap tablet and logging as you go – so much easier than transcribing your paper logs back at base