On Friday the 23rd of March 2012, a small group of amateurs were transmitting from the historic LV18 Light Vessel, moored in Harwich.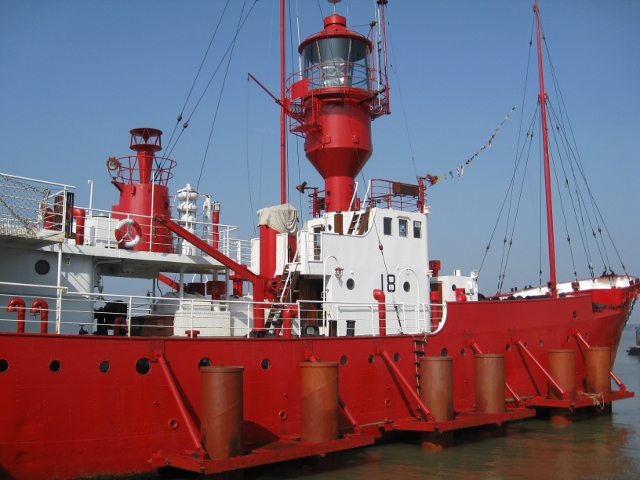 First off, many thanks to Tony O'Neill for providing us with access to the former Trinity House Light Vessel to have some fun with radio. The team for the day was Jim 2E0RMI, Pete M0PSX and Steve G8GKA, and it was a day of experimentation to see what we could achieve, and what problems operating from the LV18 would pose.
Challenges
It's not the first time that the LV18 has been used for radio transmissions. Throughout its working life as a floating lighthouse, the KV18 was kitted out with radio for marine use. The LV18 has subsequently been home to a number of RSL (Restricted Service License) radio stations, as well as radio shows by BBC Essex commemorating offshore pirate radio.
As such, it's no stranger to use as a radio station, and even has a lovely desk with space for two operators. The two hurdles for us were: 1. No holes or opening windows for an antenna, and 2. No power.
After a failed attempt at threading co-ax through a small hole in the door, Steve found a covert air inlet that allowed us to thread a 2 metre magmount lead through, and we used this for the day's operation, with the magmount on the vessel's metal roof. No HF for today's tests. Power – Jim's rig was powered from a car battery-sized fire alarm battery, and Pete was using a smaller and lighter 12V SLAB (Sealed Lead Acid Battery)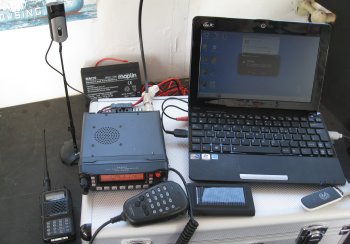 With the antenna and power sorted, Jim set to work trying to make some contacts. We could just reach the Danbury repeater GB3DA, and although we were readable, it wasn't great. Full strength from the Ipswich repeater though, GB3PO. One of the early contacts was Bob M0MUD, on a tractor ploughing a field. No luck with the Clacton repeater, which we believe may have been offline, and little luck with simplex calls on 2 metres, probably due to the band being quiet at lunchtime on a Friday.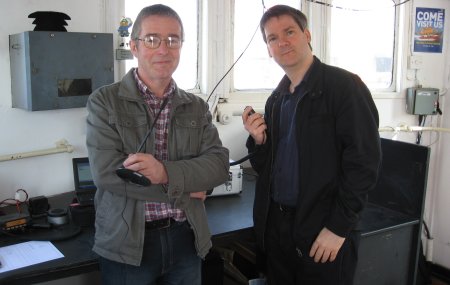 Jim had much more success on Echolink, racking up some good contacts in the US, while Pete got a live video and audio stream running from his laptop, allowing the American stations, plus visitors to this website, to see and hear what we were up to, and the webcam went mobile once or twice to have a look around the deck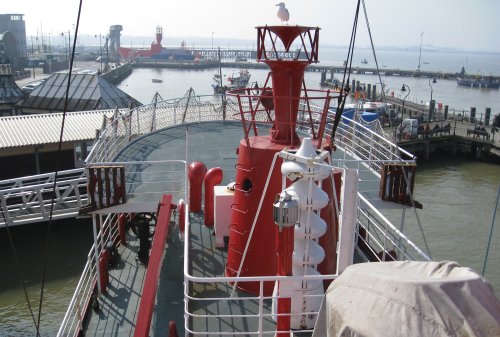 The LV18 was open to the public, and we had a small, but enthusiastic audience for some of the day, and we did our best to sell the hobby and explain what we were up to.
Steve and Jim spent some time looking around the LV18 with a view to trying HF on the next visit… plans are in motion!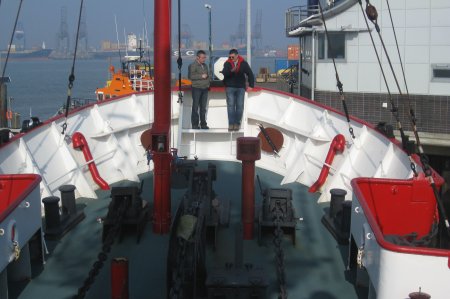 After lunch from a friendly local burger van, some more operating, a few more tours, and more streaming live video.
Pete recorded an interview with our host Tony, plus a chat with Jim about the operations today. The audio will be uploaded to this page in the next few days, so please pop back for a listen.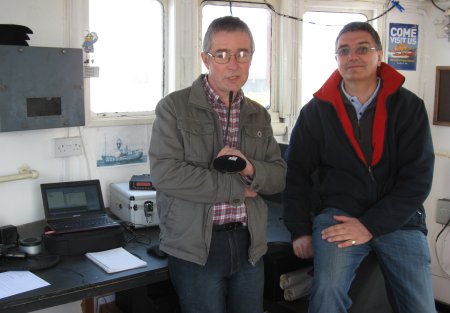 After a good day's operating, we packed up at around 4:30pm, and headed home.
If you're ever in the Harwich area, make a point of visiting the LV18, moored at the Ha'penny Pier, close to The Pier Hotel on The Quay. As well as serving as a Light Vessel and being home to several radio stations, the LV18 was (almost) a film star, as it was the "Radio Sunshine" ship in the British comedy film The Boat That Rocked. Sadly, her appearance was cut (due to time), but still appears on the DVD extras.
In summary – a great day's operating. Not as many 2metre contacts as we were hoping for, but some valuable lessons learned on our test run, some great people met, and some lovely cupcakes, handmade by Ann and Ben.
We'll be back, LV18!