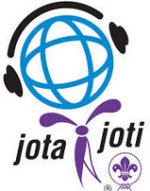 A final reminder that this weekend (17th and 18th October) is JOTA, Jamboree On The Air – the annual event helping to get scouts around the world communicating via radio.
It's set to be a busy weekend here in Essex with several stations taking part. Here's a summary of some of the stations taking part:
Basildon (Kingston Ridge) – Operating both days as GB1LC – (Supported by Essex Ham)

More details below



Canvey: The 1st Canvey Sea Scouts will be on-air at Canvey Heights on Saturday using the callsign GB2CIS. (Supported by SEARS)
Chelmsford: Last year, the Chelmsford and District Scouts were active on Saturday using the callsign GB4CDS – We assume they're on again this year
Colchester – Colchester District Scouts will be using the callsign GB2CDS
Corringham – 1st Corringham Scouts using GB3TSG (Supported by TAARC)
Epping Forest (Gillwell Park) : Operating GB2GP – More details at : www.gb2gp.org.uk
Grays – 1st Grays using GB1TDS (Supported by TAARC)
Southend-on-Sea: Southend and District Scouts at District HQ, Eastern Avenue, both days using the callsign GB0SES. (Supported by TARG)
If you hear a station calling "CQ JOTA" or "CQ Jamboree" this weekend – please help out and allow some of the youngsters to send you a guest message.
JOTA 2014 in Basildon
The JOTA station for Basildon will be operating over both days (including an overnight stay), from the Kingston Ridge camp site. The event will be run for the 1st Laindon, 9th Basildon and 1st Pitsea & Vange troops. Here's what's planned for the day:
Radio – Sending guest messages on HF and VHF
Balloons – Two High Altitude Balloon flights are planned, which can be tracked online and via 70cm USB (See Guide to HAB tracking)
Creating QSL cards
CW – Make a Morse key and send a message
Radio hunt exercise

Cyphers
Electronics projects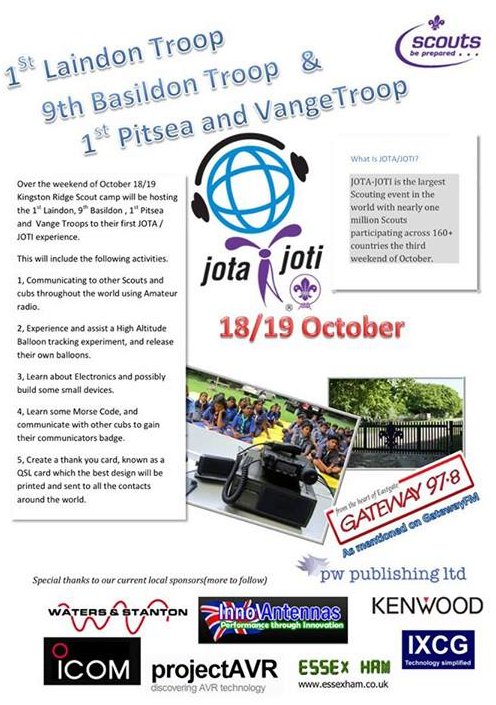 Related Links