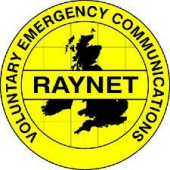 If you're by a 2 metre radio this coming Thursday evening, the 31st of January 2013, we'd like to encourage you to make contact with East Suffolk RAYNET.
Here's their announcement:
East Suffolk RAYNET are holding an event on the 31 January 2013, to commemorate the 1953 flood. As a result they are seeking contacts from other local areas, particularly those located close to the coast.
The event is to take place on Thursday 31 January 2013, between 19:30 and 21:00hrs, the frequency will be 145.225Mhz and the call sign is to be G7SCR.
1953 Floods
Sixty years ago, around 30,000 people in the UK were forced to leave their homes as a result of the North Sea Flood. Over 100 people in Essex and Suffolk lost their lives, with the biggest losses being on Canvey Island, in Felixstowe and Jaywick.
Sixty Years of RAYNET
RAYNET is a voluntary network of radio amateurs that assist the various user services with radio communications services in times of emergency, as well as various public events. RAYNET was formed in 1953 as a result of the North Sea Floods.
For more on East Suffolk RAYNET, go to www.east-suffolk-raynet.co.uk