As something of an experiment, Essex Ham launched its first newsletter in January 2013, and following positive feedback, issue 2 was released in February.
Essex Ham TX
That's the not-very catchy name we've given to the newsletter, and it's available as a PDF for free download. Our newsletter is available to all, and not restricted to members-only.
What is the newsletter?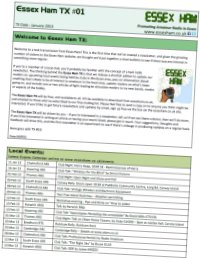 We're aware that most amateur radio clubs offer a newsletter containing details of events, reviews of recent activities, plus articles submitted by members. It could be that the "newsletter" space is overcrowded, or because of the Internet, they have less of a place. We're keen to test out the water with a mix of what we know is popular in a newsletter, but keep it short and to the point.
The Essex Ham TX includes the following:
A list of upcoming events in and around Essex, sourced from the various local clubs
Details of Essex Ham activities, such as interesting forum discussions or topics raised on our Monday Night Net
A summary of recent local events, activations or milestones
Give it a try: A one-page article on a specific topic aimed at encouraging amateurs to try something new
Worth A Look: important ham radio news you may have missed
Training in Essex: A look at upcoming courses
And Finally: Words to wrap up the newsletter
Download Essex Ham TX
The first three newsletters are available for free download as four-page PDF files:
Sign Up?
If you're interested in getting future newsletters from us, please sign up to our email news list. Add your email address in the box below.
Run a local club?
If you're a local club and want your upcoming events listed in future newsletters and in our Essex Ham Events Calendar, please get in touch
Similarly, if you want to make the newsletter available to your members, the more the merrier – please feel free to distribute the PDF as appropriate.
Comments
Something to say? Want more newsletters? Add a comment below